Discover padel on the padel grounds of Thermae
Padel is a racket sport with characteristics from both tennis and squash. You can practice Padel as a single game with two players or as a double game with pairs. During the game, the ball must be thrown over the net on the opponents' half of the court. The ball must not touch the walls around the padel terrain first. Padel thus forms a combination of tennis with squash.
Padel courts flown in from South America
Padel has its origins in South America and has been introduced to Europe through Spain. Padel is becoming increasingly popular and is being practiced more often than tennis in some places. Padel can also count on rising interest in our regions. This also increases the number of padel courts and the padel courts at Thermae can count on quite a few playing hours.
Padel play on our padel field according to the rules
As with any sport, padel also has to respect some rules. Padel can be played both single and double. Storage is done privately after the ball has bumped once behind the service line, whereby the ball must always be hit lower than hip height. The scoring at padel is completely the same as in tennis.
Well rested on the padel field
Padel is played with a tennis ball and a padel racket. With padel, the ball is very similar to a tennis ball. A padel racket is shorter than a regular tennis racket. The padel racket is usually made from graphite, carbon or fiber. A cord hangs from the padel racket so you can easily attach the racket to the wrist. Padel rackets are available in various forms such as round, tear-shaped and diamond-shaped.
The difference between a padel field and a tennis court
The big difference between tennis and padel is that one can use the large walls that define the area around. A padel terrain is rectangular and surrounded by U-shaped walls. These walls usually consist of glass but sometimes also of concrete. Just like tennis, the padel field is divided into two halves by a net. Each half of the court is then subdivided into three planes, one rear surface and two front surfaces.
Reserve a padel field at Thermae. Well-maintained grounds guaranteed!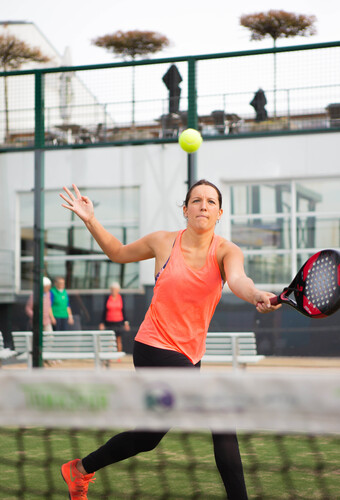 The requirements for a good padel terrain
Padel is played on both indoor and outdoor courts. The ground surface of a padel terrain can consist of artificial grass, concrete, asphalt, gravel or polyurethane. When constructing a padel field, several things must be taken into account. For singles, padel requires a terrain of 20 meters by 6 meters. For doubles, an area of 20 meters by 10 meters is required. The rear walls and side walls have a height of 3 meters. For example, 2 padel courts can easily fit within the surface of 1 tennis court.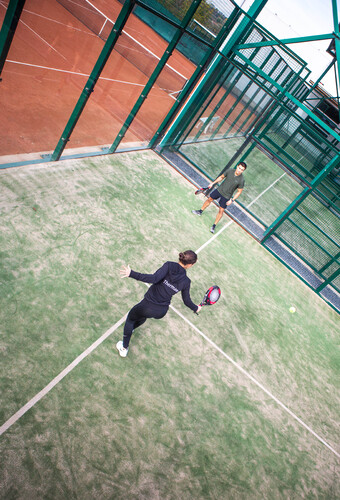 Everyone welcome to our padel field
At padel, tactics are the biggest key to success. Because the ball stays in play, even after contact with the walls around the terrain, this ensures that rallies are longer and more challenging than with normal tennis. Because strength is less important, padel can be played at all ages. It is also easy to learn and less stressful for the joints. The success of the sport is mainly due to its low threshold. Do you want to come and discover the sport? Then come quickly to the paddy grounds of Thermae.