You are not alone
Because supporting you is key to us, you can take a seat with one of our certified coaches immediately after your registration. Your goals and medical background are analysed, on the basis of which your coach will draft a customised programme for you that you can execute independently in the fitness. Naturally, this programme is completely free of obligations. The coaches will follow up with you every 6 weeks to evaluate your progress and change your programme if necessary. Still have questions in the meantime? No worries! You can always approach the present fitness coach. He will do the best he can to help you.
Coach Maxime
Education:
Bachelor sport coaching & personal training (Leonardo Da Vinci college)
Bachelor specialization in fitness preparation and training for athletes (Francisco Ferrer college)
Specialization:
Functional training and conditioning training
Sports are a big part of my life. Both team sports (like soccer) and individual training (fitness), are completely my thing. On a professional level, functional training is my specialization. Functional training is a form of fitness where the emphasis is on performing functional movements. In other words, movements that are part of your daily life. I also like to help the more experienced athletes to stay sharp by means of conditioning training.
My goal? To make people feel better and help them achieve their goals!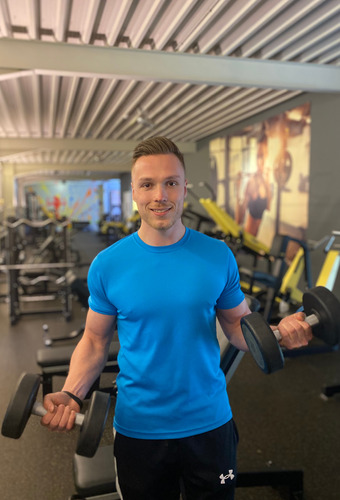 Coach Matthias
Education:
Gym - Sports and physical education
Syntra: fitness instructor, personal trainer and sports coach
Crossfit level 1
Trigger point and dryneedling expert
I am Matthias 26 years old and I have been coaching for several years in different locations including Spain. I have been coming to Thermae sports myself for many years and so I feel pretty much at home here in this fantastic complex. I am a fitness instructor, personal trainer and sports masseur specialising in Crossfit. People are made to move and I don't think everyone has always been taught this from home but I still believe there is no age limit on getting someone fit again. When you exercise you give energy... but you get this back twice as much in life, if I can make people realise this I get a lot of satisfaction out of it.
Be sure to drop by if you're ready to work on your goals, if you have questions about training schedules or if you want to make sure an exercise is done right.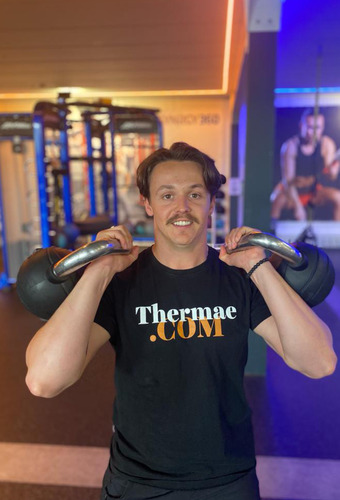 Coach Joren
Education:
Master Physical Education & Movement Sciences (KULeuven)
Fitness instructor B
Lifeguard
Specialization:
Calisthenics is a discipline in which you train with your own body weight. It is a combination of gymnastics and strength training in which everything revolves around body control and management. Through various exercises, we improve our strength, endurance and coordination. I have been practising and teaching this sport for more than 6 years.

I have always been sporty since I was a child. As a child, I played tennis, football, athletics and fitness. Because of my interest in sports, I chose the Master Physical Education and Movement Sciences. This way, I can turn my passion into my profession and guide people to their sporting goals.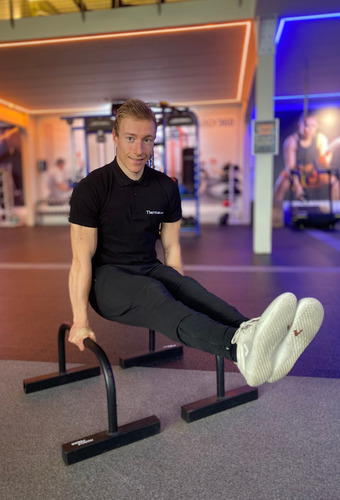 Personal training
If you want to get results quickly and efficiently, then personal coaching is definitely the thing for you. Our personal coaches provide help with stress management, back training, building muscle, burning fat and lifestyle coaching. They are all certified and have completed different additional courses. What do they have in common? A positive attitude! Our coaches are keen to motivate you and make sure your goals are achieved. Drop by Thermae Sports for a chat, completely free of obligation, and find the perfect personal coach for you!
Personal coaching is NOT included in your membership.