Nude area
Aquarius has no less than seven different saunas and numerous other wellness facilities for those who prefer relaxing naked. Swimwear is strictly forbidden in this section. A sauna session will take you on a trip around the world: in our Tibet Sauna, for example, you can enjoy the power of salt stones, the African Lodge Sauna completely immerses you in an authentic African atmosphere, the Black Forest Sauna looks like a real mountain cabin, and in the Machu Picchu relaxation area you can find absolute peace and quiet.
Naturally, between two sauna sessions you can also relax in one of our jacuzzis, the swimming pool, the Roman steam bath, the tepidarium with its heated foot bath, or in the beautiful garden.
Every day, between 14h and 21h30, there are six different Aufguss or scrub sessions. On Fridays and Sundays there is an additional Aufguss session.
Celestine sauna
The sauna's temperature is 75°C.
This is a very special sauna! In the middle of the cabin there is a lunar rock, which is charged during the night by lunar rays and releases its energy in the sauna during the day. The heat is quite tolerable here.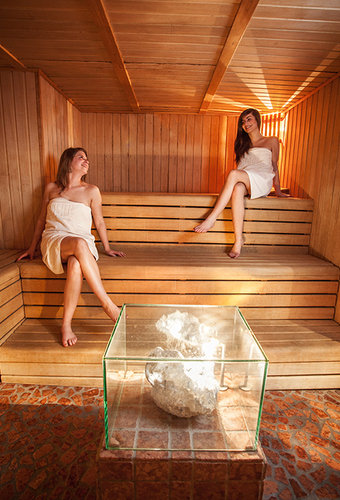 African Lodge sauna
The sauna's temperature is 55°C.
The African Lodge Sauna is a unique sauna, here you are completely immersed in an authentic, African atmosphere. The humidity here is high, making it feel warmer than it effectively is.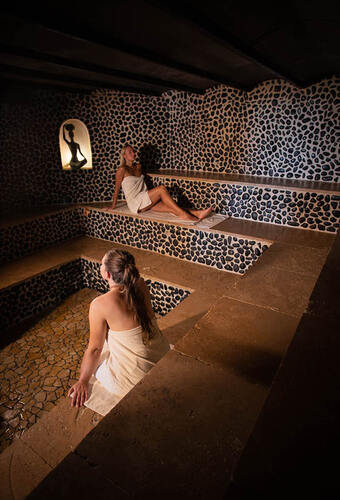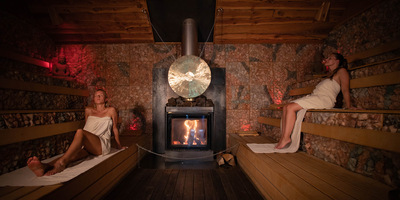 Tibet sauna
The sauna's temperature is 60°C.
The Tibet Sauna is made entirely of salt stones that purify the air because of the heat. Did you know that salt positively affects your respiratory system? Other minerals, like iodine and calcium, are released too. In addition, you can enjoy colour therapy in this sauna.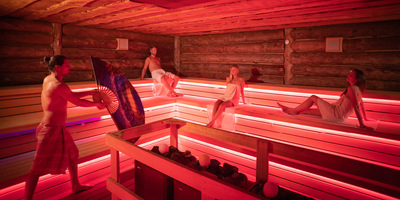 Kelo sauna
The sauna has an average temperature of 85°C.
This sturdy sauna is built from Kelo wood, fir trees from Norway and Finland. Thanks to the theatre setup, everyone has a clear view of the show Aufguss sessions that are organised here. The Kelo sauna is only open for those times, so it is not accessible all day.
Woodstove sauna
The sauna's temperature varies between 80°C and 100°C here.
Completely unwind thanks to the panoramic view on the beautiful garden in this Woodstove Sauna. It is made entirely of wood and it is heated by means of a real wood stove. The last Aufguss session takes place in this sauna.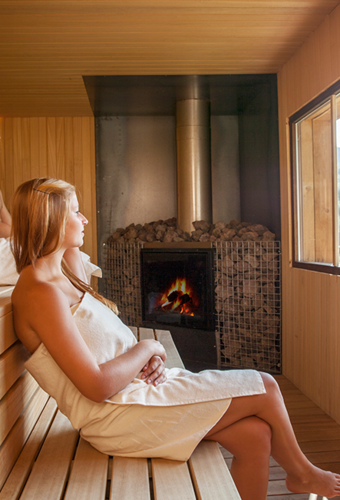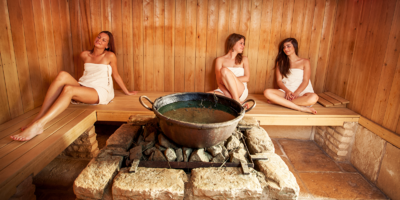 Herbal sauna
The sauna's temperature is 70°C.
A unique fragrance of wild herbs from the Ardèche spreads through this sauna. Thyme helps to reinforce your natural resistance and keeps you vital and full of energy. Lavender brings rest and gives you a feeling of happiness. Infrared panels were also installed in the Herbal Sauna. Infrared therapy has beneficial effects; for example, it warms your muscles, reducing muscle pain.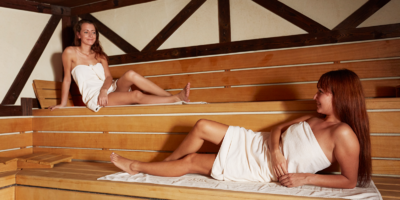 Black forest sauna
The sauna's temperature is 85°C.
For those who love a hot sauna, the Black Forest Sauna is the place to be. In this authentic mountain sauna you imagine yourself in a typical Austrian alpine village. It is a hot sauna, where in addition you can regulate the humidity yourself. A unique experience!
Roman steam bath
The humidity in the Roman steam bath is of course a notch higher than in the regular, dry sauna. The room is filled with steam, and those who feel like it can even bubble in the champagne bath in the centre! Every day you can take part in a real scrub session here.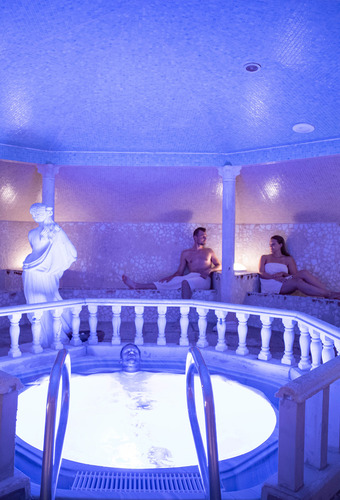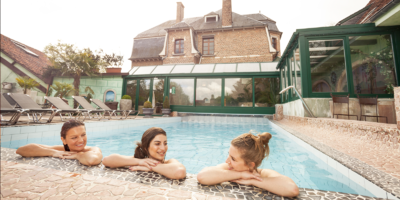 Swimming pool
Swimming is relaxing and healthy! You move around in an environment that does not strain your muscles and joints, but rather stimulates them. It is good for the heart, improves your sleeping pattern, and your mood along with it. It is the ideal way of letting go of all the stress during your sauna visit.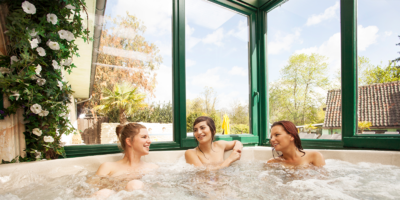 Jacuzzi
Your body comes to rest in the water and especially in a warm bath. Add a heavenly hydro massage and your heartbeat will increase, allowing your muscles to receive more oxygen. A jacuzzi is the number one place to completely let go of your physical and mental stress for a while.
Cold sauna
A cold sauna improves circulation, strengthens the immune system, promotes better sleep and skin condition, all within a rejuvenating experience.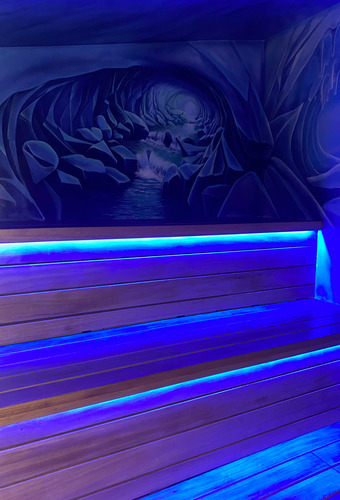 Tepidarium with heated footbath
Did you cool down properly after the sauna? Then the Tepidarium is the ideal place to get warm again. Putting your feet in the warm water will improve your blood circulation, causing your body to receive more oxygen and to remove toxins more quickly.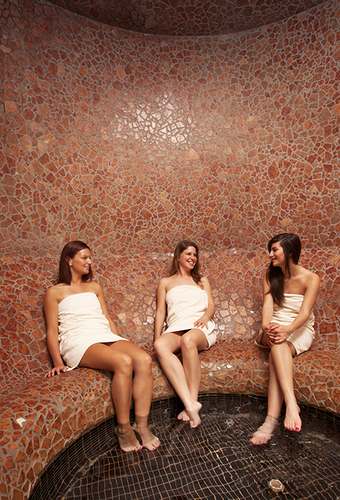 Hot and cold showers
Hygiene is one of our top priorities, which is why taking a shower at the start of your day of sauna, and after every toilet or sauna visit is mandatory. Cold water is essential to cool your body down again.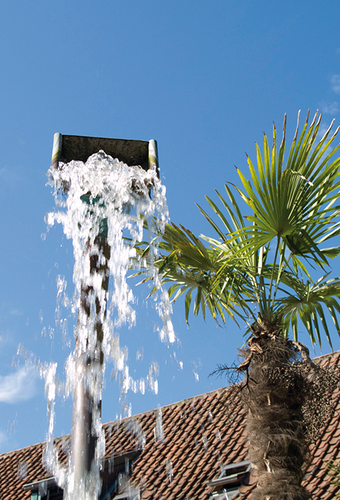 Private garden in full nature
The garden at Thermae Grimbergen is an idyllic place where you can be completely yourself for a while, away from all the everyday noises and distractions, just plain Nature. Walking barefoot through the grass, a plunge into the natural swimming pond, or a nice sauna … What more could anyone want?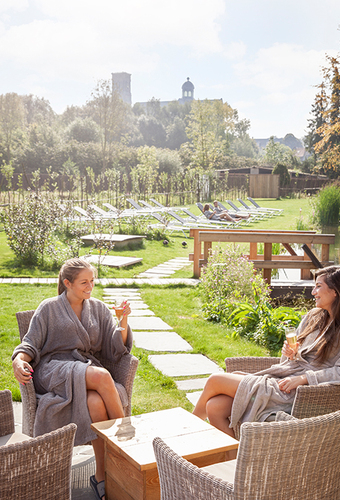 Relaxation areas
Switching from hot to cold during a sauna visit is really good for your body, but you must also take a break. The Machu Picchu or African relaxation areas, both beautifully decorated within their own theme, are ideal places to close your eyes and doze off.
You will also find a special relaxation area in the garden, next to the bar. A wonderful place to soak up the tranquil atmosphere for a while and let your mind wander ... With relaxing Tibetan singing bowl sessions given here daily, too. A definite must-try!