Sabai - bathing suit area
Bathing suit area
Sabai means 'no worries' or 'a great feeling'. That is exactly what you get after a couple of hours in our swimwear section. Those who do not like visiting the thermal baths naked can enjoy their sauna and wellness in this section. Regular visits to the sauna are beneficial to your health. Your resistance will be boosted, your blood circulation will become optimal and thanks to the sweating, your moisture reserves will be regularly refreshed.
For hygiene reasons, men are only allowed to wear short, adjusted swimwear. Women can choose between a bikini and a bathing suit. Do you want to explore the naked area? People who have access to Thermae Grimbergen can relax both in the swimwear section and in the naked section, provided the dress code is respected.
Forgot something? At the reception you can rent a bathrobe, towels, shower slippers, and swimwear.
Terracotta sauna
The sauna's temperature is 70°C.
The Terracotta Sauna is made entirely of terracotta tiles that thoroughly retain the heat, slowly releasing it again. Moreover, this cosy sauna bathes in an intimate light, so that your senses are not overstimulated and you will be engaged only in the sauna ritual itself. Moreover, in this sauna you can also enjoy infrared therapy, a heat source that not only heats your skin, but also warms your muscles, relieving muscle pain.
Sauna Mediterrana
The sauna's temperature is 90°C.
One of the walls of the Sauna Mediterrana is made completely of glass, providing a clear view of the Moorish courtyard. It is the largest sauna in the swimwear section at Thermae Grimbergen, which makes it the ideal place for one of our many Aufguss sessions.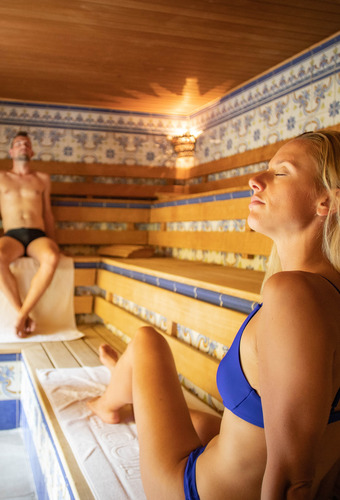 Infrared Sauna
An infrared sauna works differently from a regular sauna; the heat reaches the deeper parts of your body, allowing you to feel the effect on your muscles. They are warmed up more thoroughly, helping you to relax more easily. Furthermore, the infrared will ensure a better metabolism and disposal of the stored toxins.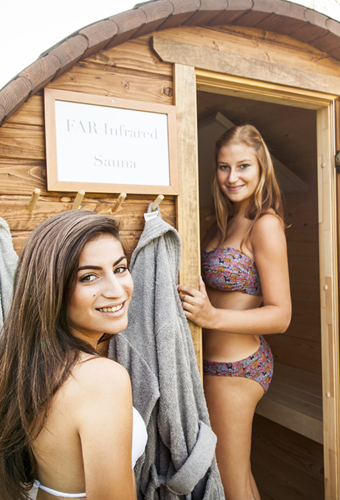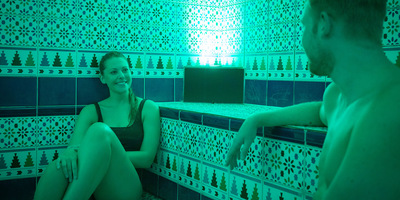 Turkish steambath
The Turkish steam bath (or 'hammam') is a warm, humid space that relieves the breathing. The temperature is a lot lower than in a sauna and the humidity is about ten times higher, which makes the perceived temperature more intense. It opens the pores and cleanses the skin.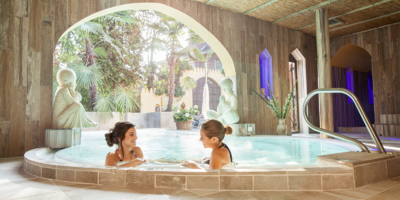 Relaxation bath
The large relaxation bath consists of an indoor and an outdoor zone. While your body relaxes in the hot water, you can free your mind with some relaxing music or just get a breath of fresh air. Or maybe you just like some variation?
Swimming pool
The outdoor section of Thermae Grimbergen has two swimming pools. They serve the purpose of relaxing your muscles and joints in a pleasant way, without straining your body, and feeling all the tension release or a while. Enough reasons to go for a swim!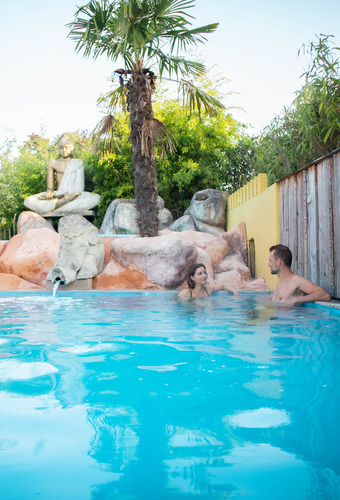 Floating
The Floating is a round bath in which you float pleasantly in hot water with a very high concentration of salt. During a floating session, you will reach a deep state of relaxation. All your muscles will relax, your heart rate will drop, and all your stress will have disappeared!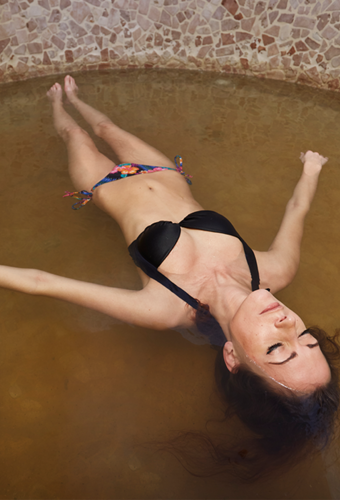 Plunge baths, hot and cold showers
Hygiene has our highest priority, and therefore it is mandatory to take a shower at the start of your day of wellness, after each toilet visit and after every sauna session. A well cleansed skin has fewer clogged pores and makes it sweat more easily. And that is healthy! Don't forget to take a cold shower after a sauna session to cool down.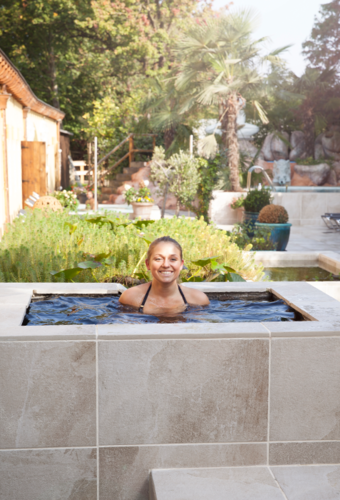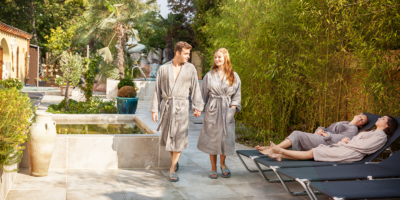 Moorish courtyard
Enjoy some peace and quiet, relaxing on one of our sun beds grabbing some rays, or in our Moorish courtyard. Right before reaching the Sauna Mediterrana, you will find the cold plunge pool. Near the jacuzzi there is a swimming pool that consists of two areas, and next to the swimming pool you can stroll into the beautiful garden with the infrared sauna.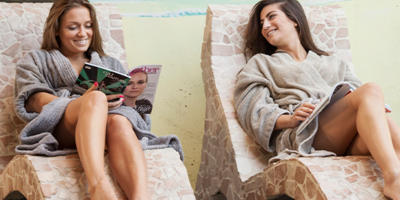 Relaxation area
During a sauna session your heartbeat will increase, which is why you have to let your body rest. On the heated benches you can relax and close your eyes, read a book or simply dream away.
If you do not have any time to relax, then it is about time that you do relax.