Choose one of our Beauty Clinic treatments for skin enhancement
No real skin problems, but just want to take good care of your skin and slow down the natural ageing process? Our Beauty Clinic treatments are well worth a look! They are all relaxing facial treatments, each with its own special effects.
Microdermabrasion has a cleansing effect, for instance, while oxygen is used in oxygen therapy, cryotherapy is a cold exposure treatment and mesotherapy uses radiofrequency to strengthen the skin from within.
Here's one top tip for you: a daily beauty regime is a must. And no, you don't have to spend ages on this. During your treatment, our beauty therapists are happy to share a few tips and tricks with you for quick and efficient ways to look after your skin. But yes, good skincare is essential to help fight the ageing process.
Take a look below at the treatments we offer. Keen to try one of them? Call +32 2 270 81 96 to book an appointment. You can also book via our contact page Want a bit more info before taking the plunge? Find out all you want to know during a free info session.
Microdermabrasion
A gentle microcrystal peeling, which makes this a suitable facial treatment for all skin types. This treatment boosts oxygen supply to your skin and stimulates it to produce new, healthy skin cells. Also, clean skin is able to better absorb the active ingredients of your skincare products. After this treatment, your skin is instantly radiant again!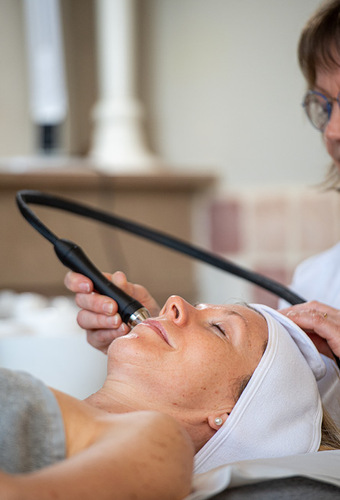 Mesotherapy
Mesotherapy is an effective treatment to help fight skin ageing. The radiofrequency mesotherapy device used makes it possible for the products to be delivered all the way into the deeper skin layers. Similar to an injection into the cell nucleus, as it were, but without needles and completely painless! This boosts collagen production, making your skin plumper and more elastic again. Plus, your skin's resistance increases, so that it is less vulnerable to external aggressors. Wrinkles appear reduced and your skin's healthy complexion is restored.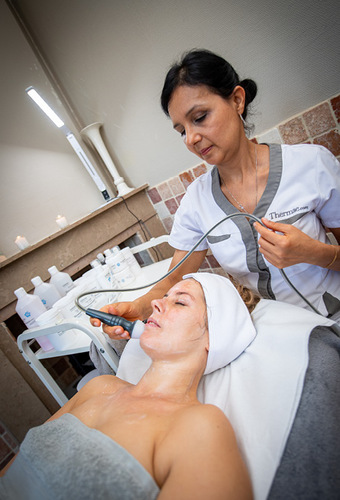 Oxygen therapy
Oxygen therapy helps maintain or restore your skin's youthful appearance. Recent studies have shown that oxygen, combined with high-quality serums, can be introduced into the skin to fill up the natural spaces between skin cells. So, during this sophisticated treatment, active, skin rejuvenating serums – tailored to your skin needs – are delivered deep into the epidermis. That is where the foundation is laid for healthy, elastic and firm skin.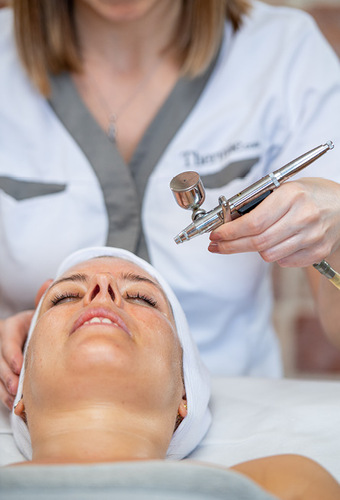 Cryotherapy
This skin rejuvenating facial treatment projects a flow of cold oxygen all the way into the deeper skin layers, resulting in the automatic widening and narrowing of blood vessels. This creates a pulsating effect that boosts the oxygen supply in your skin, so that the products used are better absorbed. It also stimulates the production of elastin (which makes your skin supple) and collagen (which makes your skin firm).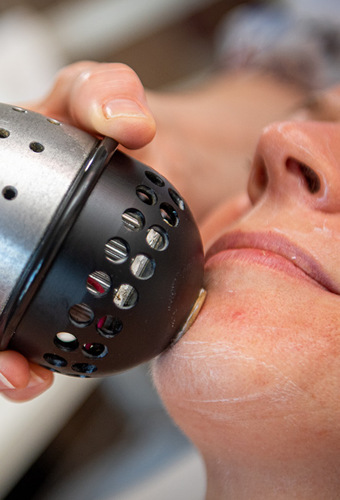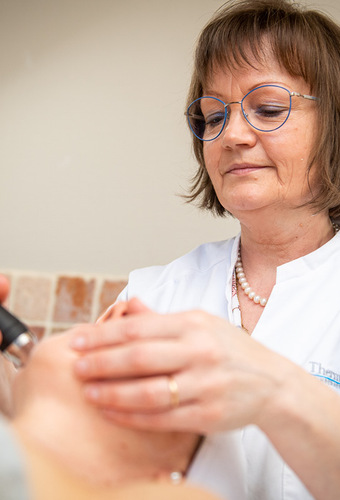 Free info session
Still have questions? Or not quite sure what treatment suits your skin type? Call +32 2 270 81 96 to book an appointment for a free or use the contact form, no-obligation info session. One of our beauty therapists will take the time to listen to your skin concerns and will suggest a personalised treatment plan!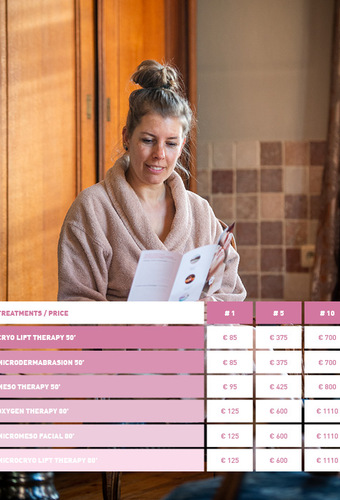 Money-saving multi-treatment pass
Obviously, you can book any of our Beauty Clinic facial treatments as an individual treatment. Maybe just before a party or simply to treat your skin to some pampering? But for optimal, long-lasting results, we recommend having a course of several treatments. How many treatments and how often depends on your skin type and the desired result. Discuss your expectations with our beauty therapist and she will be happy to help you.
We offer a money-saving multi-treatment pass if you want to have a course of treatments. You have a choice of five or ten treatments, with savings from 50 to 150 euros!
Our multi-treatment passes are only available to buy at reception at Thermae Grimbergen.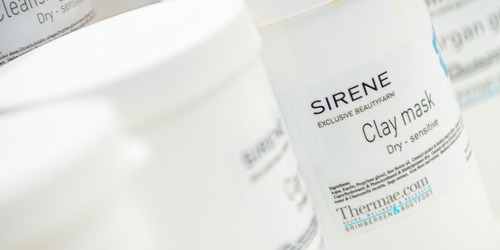 What can you do at home?
There is a lot you can do at home, of course, when it comes to protecting and nourishing your skin. Do you have a daily beauty regime? You don't need to spend a lot of time on this, but it is well worth doing!
In the morning, you could cleanse your skin with a cleansing milk during your shower, for instance. And, after you have dried yourself, apply some lotion, followed by the application of a day cream after you got dressed. Then, once a week, you can also extend this beauty regime with a gentle peeling and a hydrating face mask. Pure relaxation!
We use and sell products by Sirène. a line of skincare products made exclusively for us in a Belgian lab. So, you can only buy these products at our wellness centres. Want to know more? Ask our beauty therapist about them during your visit, she will be happy to tell you everything you want to know!