Curia - bathing suit area
Bathing suit part
Swimwear or naked, the never-ending discussion. Since Thermae Boetfort wants to offer both groups the enjoyment of wellness, the castle domain has been divided into two separate sections. Regular sauna visits boost your resistance, improve the blood circulation and stimulate sweating, which refreshes the moisture reserves.
In addition to the three different saunas, there are numerous other wellness options, such as a unique relaxation bath in the former wine cellar, a Laconium with medical infrared therapy, a swimming pool, jacuzzis and more!
For hygiene reasons, only short and tight-fit swimsuits are allowed, ladies can choose between a bathing suit and a bikini. Still up for a visit to the nude section? No problem. With your entry ticket, you have access to both thermal bath sections, provided that you respect the rules.
Kelo Sauna
The sauna has an average temperature of 65°C.
This unique sauna has been custom-made for Thermae Boetfort. The kelo wood absorbs the heat and then gently radiates it again. Our in-house artist has turned this sauna into a real gem.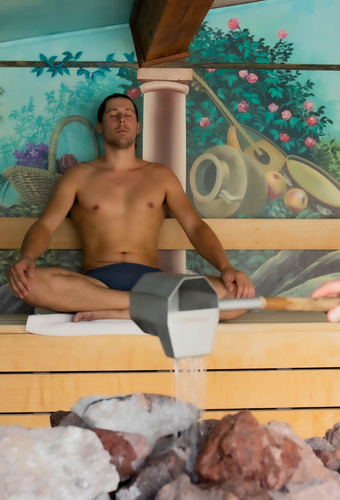 Light-Therapy Sauna
The sauna's temperature is 70°C.
Green is a soothing colour, it gives you self-confidence and strength. In turn, blue has a refreshing effect and reduces insomnia. Red is a powerful colour, it charges your energy levels and improves your blood circulation. And finally, yellow has a positive influence on your mood.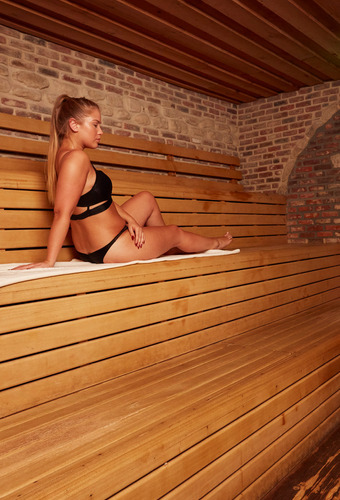 Music Sauna
The sauna's temperature is 55°C.
Thanks to the heat and the mellow sounds, you can find complete peace of mind in this sauna. The music helps you to let go of all your worries and enter a deep state of relaxation. With its 55°C, Music Sauna is also one of the mildest saunas, a perfect start to your day of wellness.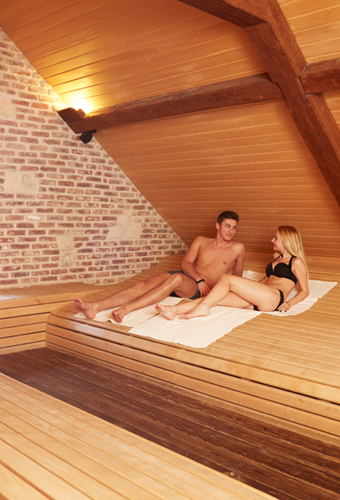 Lakonium
In the Lakonium you will find two types of infrared panels: the traditional ones with the red light and the medical infrared panels that are not visible to the human eye. Your muscles warm up, which helps them to relax and relieves muscle pain.
In an infrared sauna, you perspire sooner than in a regular sauna. Therefore, your body is submitted to a real cardiovascular workout. The advantages are numerous: your condition and your sleeping pattern improve, muscle aches diminish and your skin is completely radiant again!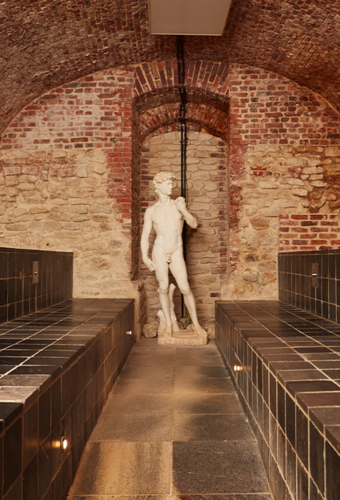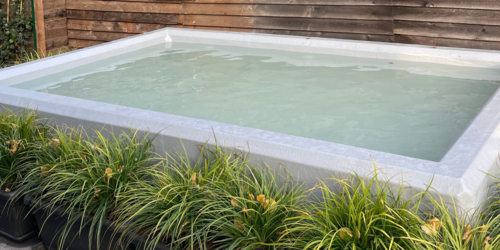 New floatation pool
Experience the wonderful sensation of floating weightlessly in our new floatation pool. This pool, which is filled with a high concentration of cleansing Epsom salts, allows you to float just like in the Dead Sea. Floating is incredibly relaxing and has many health benefits: it cleanses your skin, leaving it feeling silky smooth; stimulates muscle recovery and promotes a better night's sleep. Want to find out more?
Relaxation bath
The relaxation bath is one of the unique places where you can experience the history of the castle. You are relaxing in the former wine cellar. The floor consists of loungers, so that you can lay back and dream away in the warm water, enjoying the light therapy to the fullest.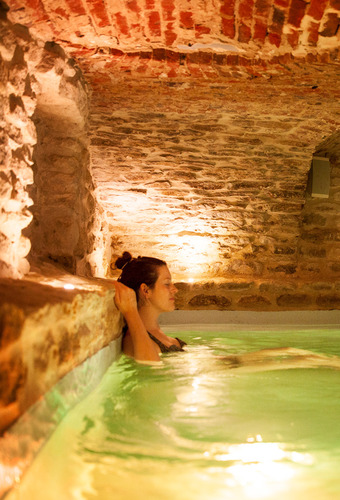 Steam bath
There are three main differences with a regular, dry sauna: the temperature is much lower, the humidity is much higher and you don't sit on a towel, but directly on stone benches. The steam opens your pores, allowing toxins to be more easily expelled through sweating.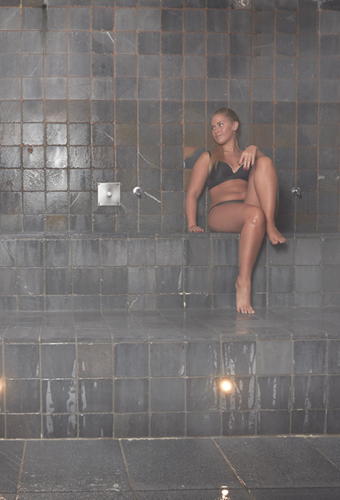 Footbath with heated benches
By warming up your body from the feet upwards, you not only improve your heart condition, but the blood also runs better through your legs, belly, head, and back down again. This provides your body with fresh oxygen and on the way back it improves the disposal of toxins.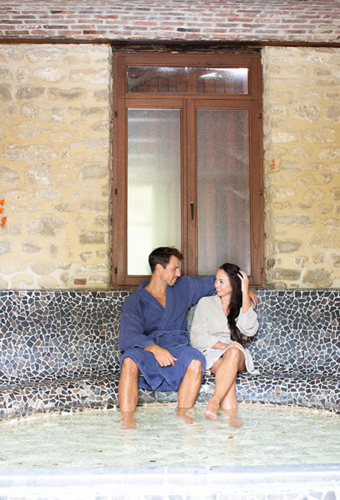 Heated outdoor swimming pool
With a temperature of 32°C, the swimming pool is the ideal place to relax. When swimming, you use all your muscles in an area with little resistance. Did you know that in the swimming pool, you weigh 90% less? Not much chance of getting injured!
The swimming pool's temperature is about 32°C.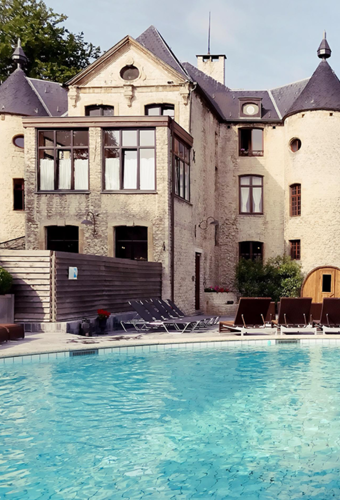 Jacuzzis
Warm water forms an ideal relaxation therapy. An additional advantage of the jacuzzi are the massage heads that loosen up your tense muscles again. Moreover, the warmth makes your heart beat faster, improving the pumping of oxygen through your body and subsequently helping your body to recover faster.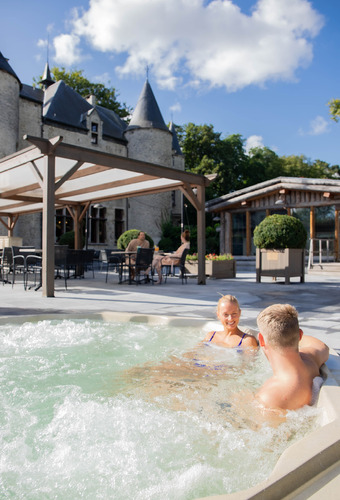 Terrace
The terrace of the bathing suit section is divided into two parts. Around the swimming pool there are sunbeds. Closer to the castle, there is a roofed dining area. During summer, you can enjoy a snack and/or a drink here.
Mobile phones, tablets, computers and cameras are strictly prohibited in the entire wellness centre.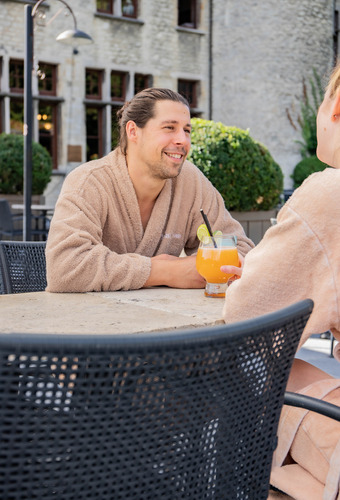 Relaxation area with heated loungers
It is important to take the time to cool down properly in between two sauna sessions, to take some rest, and then slowly start to warm up again. In the relaxation area next to the entrance of the swimming pool, you can find heated, stone loungers.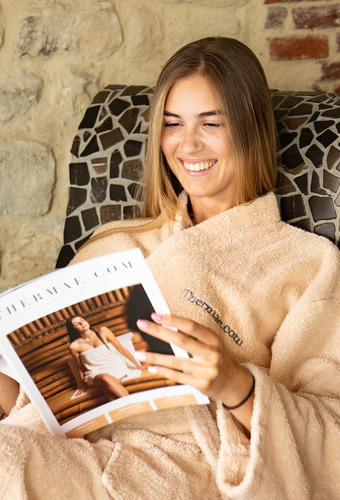 Showers
For reasons of hygiene, it is important to take regular showers during your day of wellness. A clean body can sweat better, thus expelling toxins more easily. There are several cold and hot showers at your disposal.
It is mandatory to shower after every toilet visit. It is necessary to take a shower before entering the baths and after every sauna session. There is soap and shampoo on-site.