Experiencing programma
At Thermae Boetfort, you can experience a genuine sauna experience thanks to the extensive activities programme. Every day there is a choice of Aufguss and scrubbing sessions to freely take part in.
There are Aufguss sessions in the different saunas, and scrubbing sessions in the steam bath. Both on weekdays as in weekends, they take place in the nude section and in the bathing suit section.
Our Aufguss specialists are always trying to improve by, amongst others, learning new waving techniques and by regularly changing the scents they use. In addition, there are special events every month, in which no challenge is too demanding. How about an Aufguss session with a black light show, live dancing during the session, or special mixed music?
Be sure to try our weekly Russian Aufguss with birch twigs or the crystal bowl Aufguss session. Every Sunday we call in a didgeridoo artist!
Thermae Boetfort regularly organises unique Aufguss weekends, during which our Aufguss specialists pamper you at special sessions. Subscribe to our newsletter and stay informed about all our events!
Daily aufguss sessions
During an Aufguss session, the specialist pours a mixture of water and essential oils on the hot stones. Because of the heat in the sauna, an insulating layer of air is created around your body. The Aufguss specialist vigorously waves a towel, blowing away that insulating layer. Result? You get a warmth boost and a true adrenaline kick. At least nine different Aufguss sessions per day.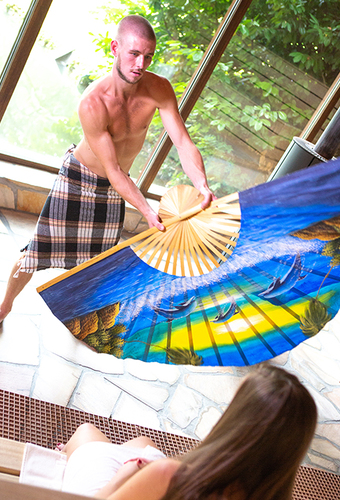 Russian Aufguss session
A Russian Aufguss or banya session is an original Aufguss session with birch twigs. With the birch twigs, they softly pat you on the back to improve your blood circulation and the working of your organs. A unique experience!
Every Thursday at 20h00 in the hamam at Thermae Boetfort.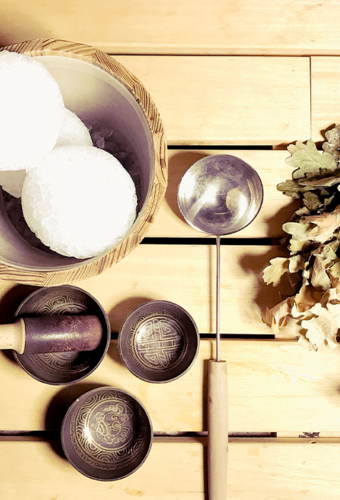 Weekend Aufguss Sessions
On weekends Moenia, the nude section, offers an extra Scrubbing session and on Sundays a singing bowl session with didgeridoo. Would you like to be kept informed about our unique Aufguss weekends? Then subscribe to our newsletter or follow us on Facebook.
At 16h00 you can participate in a scrubbing session in the bathing suit section. And at 18h00 there is an Aufguss session in the Kelo Sauna in the bathing suit section.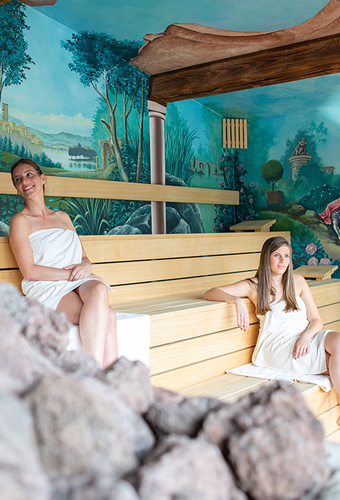 Daily scrubbing sessions
Those who scrub on a regular basis keep their skin healthy. With a firm peeling, you remove the dead skin cells and your skin can regenerate better. You reduce impurities and imperfections of the skin, making it smooth and radiant again. Make your skin wet and gently rub it on your skin with soft, circular motions. Every day, there are four scrubbing sessions at the steam bath.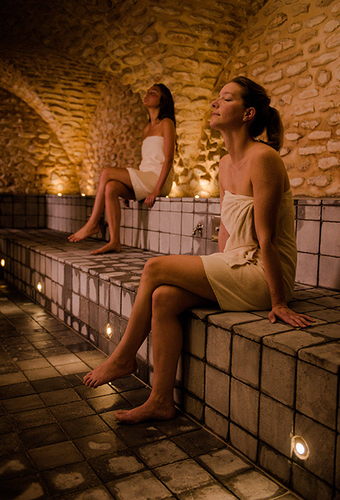 Yoga
Yoga is a gentle and low-key means of body workout. Yoga postures make you consciously use all your muscles. Not only does it make for a suppler body, but you can also relax more easily. The yoga session (every Tuesday at 20h) in Thermae Boetfort takes 20 minutes and is at an easy level.