Sauna vacation close to your home
Winter wellness at Thermae Boetfort and Thermae Grimbergen
Chase away the chill with some warming winter wellness at Thermae Boetfort or Thermae Grimbergen. Glorious sauna break guaranteed! Whether a one-day sauna visit or a multi-day package, we offer a wide range of options and more importantly, a COVID-proof environment! We have taken a lot of extra measures to give you a safe, relaxing wellness experience. Go to our COVID info page to find out about the latest COVID information and rules that apply when visiting our wellness centres.
Both wellness centres have everything you need for a restorative sauna holiday. Visit our beauty clinic for a heavenly massage or a blissful body or facial treatment. And, if all this pampering has left you feeling hungry or thirsty, you can have something delicious to eat and/or drink at our restaurant. If it's privacy you want, our private saunas are perfect for you.
Make sure you check out our Winter Specials! This season, we have three different specials for you to choose from. The Winter Special is a package with a one-day entry to the public baths, a massage and a facial treatment. The Winter Special with overnight stay is a two-day package with a one-night stay in a Classic, Superior or Deluxe room, two days' entry to the public baths and a massage. Completing our trio of specials is New Year's Glam, an exceptional package that is perfect for those of you who want to sparkle this festive season! Besides entry to the thermal baths, this package includes a long facial treatment, a back massage, and a foot and lower-leg massage! All three specials can be booked both at Thermae Boetfort and Thermae Grimbergen (telephone bookings only). Or, treat someone else and buy a gift voucher online. You will receive it in your inbox within seconds of placing your order.
Are you planning on visiting our wellness centres several times? Then you may want to get a multi-visit pass! This gives you 10, 20 or 50 entries to the thermal baths at a great price!
Extra inexpensive mini break at Thermae Boetfort and Thermae Grimbergen
Why not put your own sauna holiday together and combine a stay at our hotel with one or more days' entry to our thermal baths and a few heavenly treatments? Or you could opt for one of the multi-day packages we created for you at Thermae Boetfort or Thermae Grimbergen.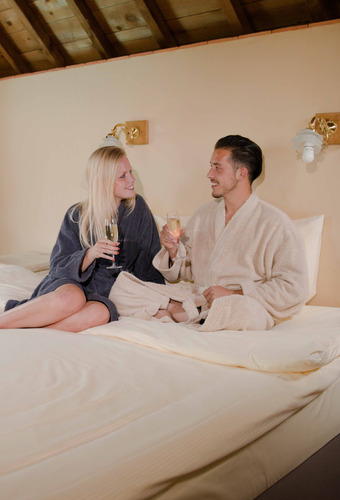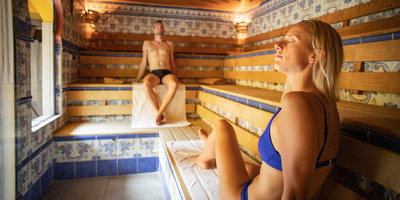 Sauna vacation Thermae Grimbergen: multi-day packages
On 1 December 2021, we launched our new range of packages, including some wonderful, budget-friendly packages! Among them, Chronos, a package with a one-night stay in a Superior or Deluxe room at the Thermae Grimbergen Hotel. Also included are two days' entry to the public baths, with a nude and swimwear area for you to enjoy your wellness your way, provided you respect the dress code, of course. What's more, as our guest, you can take part in the daily wellness programme to your heart's content, with various Aufguss, scrubbing and relaxation sessions to choose from. In the morning, a generous breakfast buffet awaits you and the use of bath linen is included in the price too. Topping off this wellness experience are three blissful treatments: a skin-cleansing body peeling, a wonderful massage and a hydrating wrap with Dead Sea extracts. While these extracts work their magic, you are pampered with a relaxing facial treatment.
Not really into massages and treatments, but more of a sauna and wellness fan? Our Bed & Wellness formula is the package for you!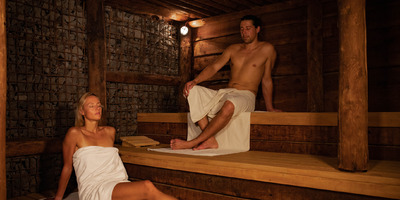 Sauna vacation Thermae Boetfort: multi-day packages
Nox is our two-day package with three treatments: a cleansing kasbah ritual, a hydrating gel wrap and a blissful Body Relax Massage. Artemis is a three-day package with no fewer than six wonderful treatments!
Thermae Boetfort also offers a formula with entry to the public baths and an overnight stay, but without treatments: the Sleep & Sauna package! All three packages give you a choice of hotel room type: a Classic room in a separate building across the street, or a Superior or Deluxe room within the castle estate.
The icing on the cake is our festive Celebration package, consisting of a private sauna session, with a chilled bottle of cava and snacks served in the sauna, two days' unlimited entry to the public baths and a few wonderful treatments. You will be staying within the castle estate, in a Superior or Deluxe room, so you can roll out of bed and walk straight into the thermal baths in your bathrobe!
Sauna vacation for one day
Of course, both Thermae Boetfort and Thermae Grimbergen also offer several one-day packages, with some fabulous Beauty, Massage and Private Sauna Packages to choose from.
If you just want to book a session in our private sauna (without any treatments or hotel accommodation), you can do so quickly and easily online. Click here to book a private sauna session at Thermae Boetfort and here to book one at Thermae Grimbergen.