Wellness with overnight stay at Thermae
Those who wish can also opt for a wellness with overnight stay at Thermae, as we also have hotels. For example, the private wellness packages at Thermae are possible with and without overnight stay. By choosing a wellness package, with or without overnight stay, you really get away from it all. Once you have been to the Thermae wellness, you are guaranteed to return to it.
Wellness with overnight stay to enjoy extra long
Sometimes a few hours is not enough to take a break. That is why at Thermae you can also opt for wellness with accommodation. By choosing a wellness package with an overnight stay, it is not only wonderful to enjoy at the hotel, but you also have fun activities on the agenda in bad weather. Do you like a day of wellness but are always too short, then a wellness package with overnight stay is the perfect formula for you. Staying and bathing in an oasis of peace and relaxation. Do you also dream of it? A wellness stay at Thermae is exactly what you are looking for. Choose wellness with overnight stay as long as you can't get enough of our different wellness facilities and treatments.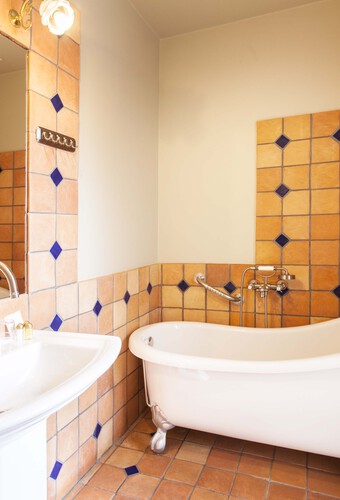 In this way you can be pampered all day long in our various wellness facilities, to end in the evening with culinary delights and a delightful night in one of our Thermae hotels near Brussels. Or maybe you are looking for a special gift for someone dear who would like to offer you a luxurious relaxing time for yourself. Then our gift voucher for wellness with overnight accommodation is the perfect gift.
Private arrangement at a wellness center with overnight stay
To complete the overnight stay with wellness, you can opt for a private wellness arrangement. This way you create a personalized experience tailored to your wishes. Would you also like to relax for a weekend with two? Then take a look at our options for wellness with overnight accommodation. Our wellness offers beautiful relaxation rooms with access to our private wellness packages. You can enjoy the peace and facilities in complete privacy during the entire duration of your stay. During a wellness weekend it is just wonderful to relax alone or with two. Let yourself be pampered with a satisfying massage or opt for a nice beauty treatment of your choice. A wellness with overnight stay naturally also includes delicious dining. You will be spoiled with delicious healthy dishes to strengthen the inner being.
Discover the possibilities of wellness with an overnight stay at Thermae
Our wellness with overnight stay is perfect for a relaxing weekend. View the different wellness locations of Thermae and choose which of our hotels you would prefer to spend the night in. Your stay in our Thermae wellness and hotel is guaranteed to be the ultimate experience. With a wellness with overnight stay you can use our wellness accommodations in complete privacy and you also enjoy a totally private wellness arrangement. Return after your weekend as reborn and enjoy a weekend of wellness at Thermae. As a hotel guest at Thermae, quickly discover your access to our many wellness facilities. Would you like to get away from it all, relax, enjoy a wonderful massage, with sauna and dinner, followed by a good night's rest? Then take a quick look at the possibilities at Thermae wellness and hotels in and around the Brussels area.
Discover the possibilities at Thermae Boetfort. But also at Thermae Grimbergen.
Come and discover our cozy rooms